Project

---
Jodlersgold

Classification

---
Brand identity and strategy, digital design, labelling system, UX/UI, digital marketing, brand merchandise, 3D modelling

Description
---
Jodlersgold (Yodeller's Gold) is a German brewery based in Brandenburg, Germany. This brief required an outcome that represented that traditional German style, and brought the brewery's identity into a more modern, digital ready image.

The general idea was to place Jodlersgold in a space in the market that would allow it to compete with higher-end beers and ales- a rung above standard, run of the mill beers, with an authentic, heritage focused edge.

A key part of the marketing for Jodlersgold is the slogan "Get Jolly with Jodlersgold", which is designed to effectively communicate the social aspect of drinking with friends and family, and the history in Germanic nations of drinking as a social release. "JOLLY" is chosen here as it evokes ideas of traditional German bierhalls, Oktoberfest, etc.

Alongside this was a fresh take on a landing page for the Jodlersgold website, utilising moving image of a bubbling pint to create an eye-catching look that represents the detail loving style of Jodlersgold. Part of the allure of this moving image is the fact that when you look at other breweries online, there is little to really differentiate each major brewery.

Outcome
---
︎︎︎ Brand identity & strategy
︎︎︎ Labelling system
︎︎︎ Digital marketing
︎︎︎ Motion design
︎︎︎ Brand deliverables

︎︎︎ Jodlersgold, Marque.

For Jodlersgold: a nice, simple motion aspect.
Two different ease-in speeds for 'jodlers' and 'gold push
that three syllable 'Yode-Lers-Gold' pronunciation, and
would function well at the end of a television or social
media advertisement.
︎︎︎ Jodlersgold's Four

On offer: four distinctly German beers.
I designed the Jodlersgold can packaging utilising the Jodlersgold packaging pattern as a centrepiece, with a strong system of information presentation set sideways on the can: "Jodlersgold presents:" used to introduce the consumer to the beer style.

This way, as a customer, you feel as though this is a grandiose, well-crafted and proud item, and are more likely to place it as a high-quality, high-end product.
︎︎︎ 3D Modelling

As part of this branding project, I got to work with Adobe's 3D software, Dimension. It's something I'd wanted to try my hand at and develop as a skill, and it's been consistently amazing for me to see a design idea really come to life with a custom mockup.
I created a few simplistic close-up shots to showcase the brand products, keeping render times low with medium quality exports in this case.
︎︎︎ Flats, Jodlersgold Four, 330ml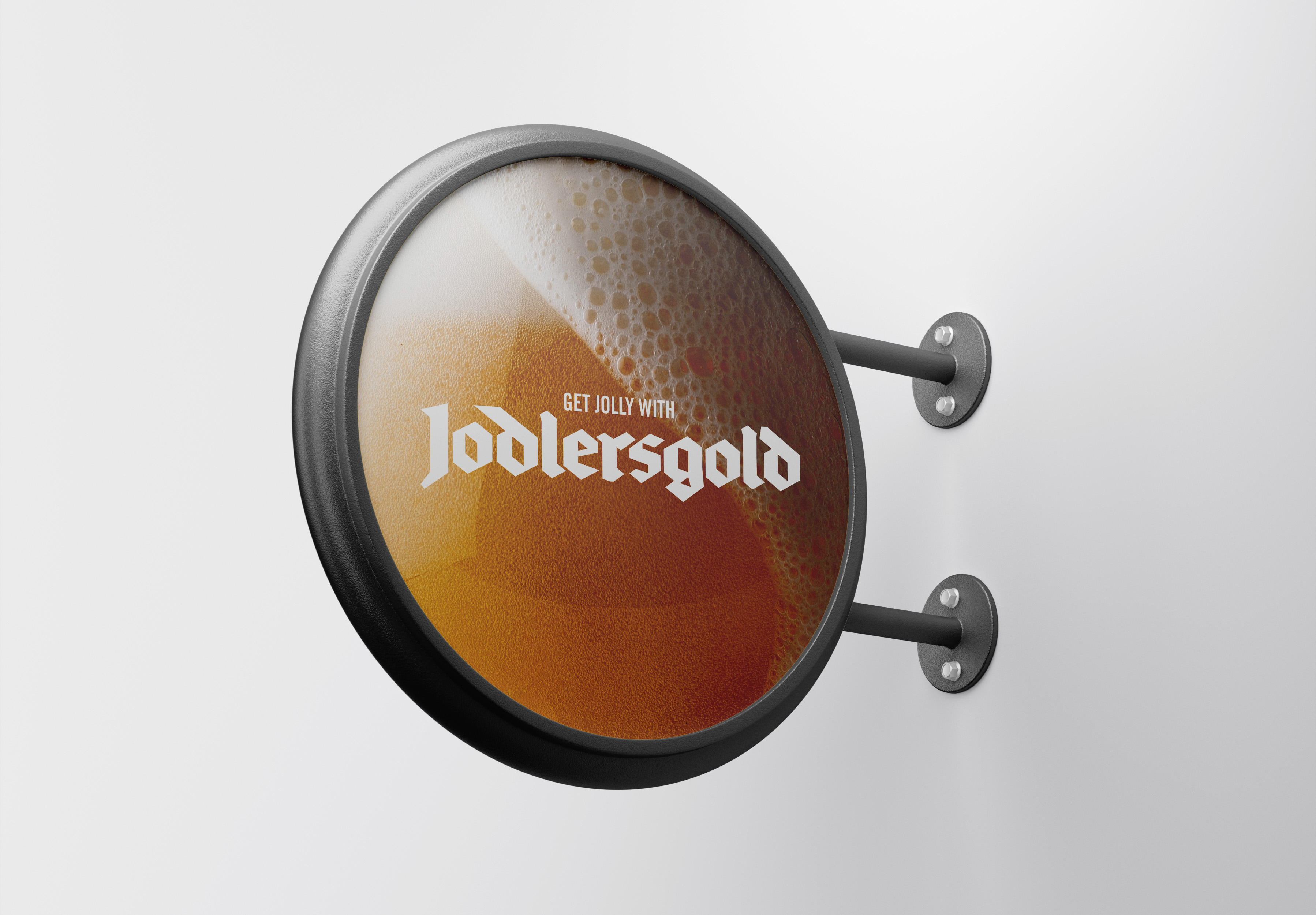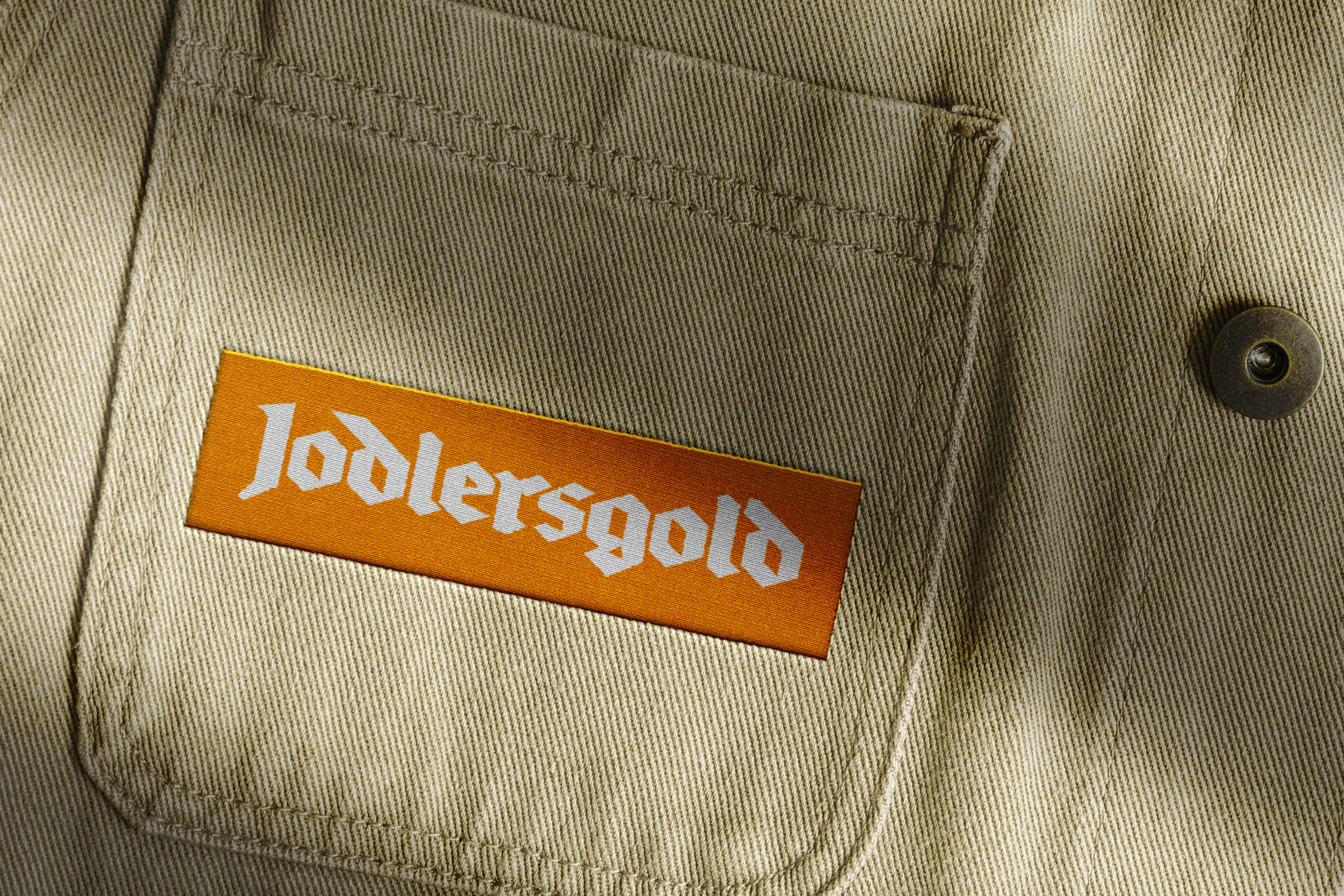 Brand Merchandise
︎︎︎ Bar signage
︎︎︎ Coasters
︎︎︎ Staff Uniform
︎︎︎ Jodlers Pintglass
Jodlersgold, Landing
︎︎︎ Above fold
︎︎︎ Below fold